The Creative Capital comes alive for a free four-day festival
that celebrates artists from all corners of the globe.
Every June, Mayor Jorge O. Elorza, Providence Art, Culture + Tourism, and founding partner FirstWorks collaborate to host PVDFest, Providence's signature summer festival. From June 11 – June 14, 2020, the City's world-renowned creative and culinary communities will join forces with artists and musicians from all corners of the globe to deliver a once in a lifetime experience. Live music, dance, food, and visual art installations transform the Creative Capital into a four-day takeover of public spaces, parks, and outdoor stages in the heart of Providence, Rhode Island.
While most of our open-calls for participants are closed, there are still ways to get involved in the PVDFest magic: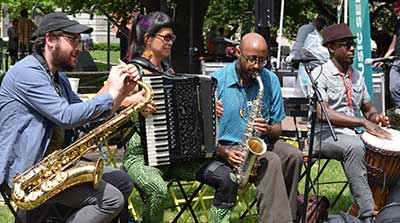 PVDFest's story is shaped by our artists. If you've received a 2020 performance contract, please complete the press profile.  Click on the above photo.