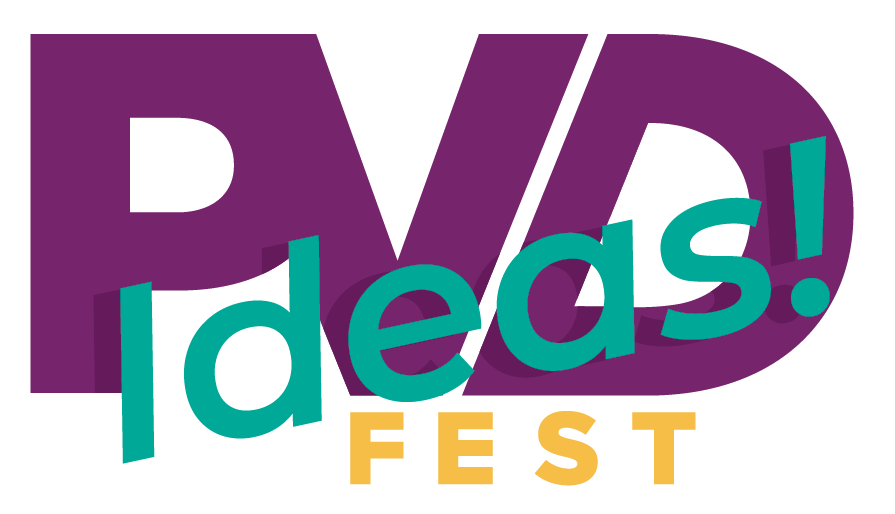 PVDFest Ideas 2021: Commemoration and Legacy
PVDFest Ideas is a forum for big thinking in public. 
In the wake of a devastating global pandemic with economic and social impacts creating shockwaves we cannot yet sense in totality; and seismic uprisings for Black life that have shaken the twin myths of white supremacy and color blindness;
We need BIG IDEAS more than ever.
What will Providence residents remember from this "unprecedented" year? 
How might descendants of Providence commemorate the legacies of 2020-2021? 
PVDFest Ideas invites submissions for public programming from community curators that foreground the concepts of COMMEMORATION and LEGACY. All PVDFest Ideas programs will take place between mid-June 2021, and late September 2021.
Programs do not have to have a "scholarly" angle, per se, but they should consider humanities methods such as connection, bridge building, empathy, and understanding across differences.
While panel discussions are welcome, we encourage you to imagine how programs might take advantage of virtual, hybrid, socially distanced, and other adaptive platforms that blur lines between learning, practicing, performing, making and thinking collectively in public.
PVDFest Ideas' producing partners will review submissions in early May for inclusion in Phase I (June 21 – July 30) and will review applications in late July for Phase II (August 1 – September 30).
Programs selected for promotion under the PVDFest Ideas umbrella will be incorporated into the PVDFest Ideas online schedule on a rolling basis until the conclusion of September 2021. A small amount of funding will be made available through ACT's microgranting program (*see submission form for details.) 
Not sure if your program is appropriate for PVDFest Ideas? Contact ACT Special Projects Manager Micah Salkind: msalkind@providenceri.gov – he will be happy to workshop your idea with you.
A library is a monument. For Providence Public Library this identity is both literal and figurative. Our building's architecture itself is a combination of the Romanesque Revival architecture of Gilded Age progressivism and the Brutalist promises of strength and transparency; emblems and sentiments intended to stand eternally in stone. Figuratively, too, libraries have long functioned to exhibit what should be remembered and who gets to remember it.
Like all monuments, stone and institutional alike, the library carries a complicated legacy. It is our duty to uphold the ideals of universal knowledge and self-betterment while acknowledging the history of failures in their execution.
Monuments are markings. They mark the landscape to evoke the permanence of ideas.  By contrast, commemoration is a process, part of the cycle of ideas and of human emotion: something has marked us and we respond as a community in the way we must. As we, in this time, reflect upon the white supremacist monuments etched by our forbears, we see the hubristic and malicious motives behind illusions of permanence. No monument, nor time-bound ideal, should or will endure forever. We change, because knowledge and understanding can and must evolve. Monuments, too, are a process.
As a monument, then, the Library seeks to become a process, a question instead of an answer, a dance instead of a stone.  It is through endeavors like PVDFest Ideas that we can dance that path.  Reflection has proven an essential part of staying fluid, particularly in our experiences during the pandemic.
When the pandemic began, we at the Library took a moment to reflect on what programs without close contact meant, and we found ourselves driven toward the larger question: how do we even begin to process this moment? In the unimaginable month after the lockdown began in March 2020, we explored the possibilities and the paths through uncertainty with the emeriti of our Creative Fellows in a program series called Adaptive Practices. Through the guidance of artists, Adaptive Practices took many forms–sound-journey, speechless documentary, memory workshop, drawing marathon–but each embraced uncertainty in a way monuments never do.
Now we are working on Culture is Key, a Rhode Island Council for the Humanities project that pairs institutions and media producers to elevate civic outcomes. Lo Bell, Kenny Borge and Will James, our collaborating media producers, are gathering and disseminating the history of our neighbors — the skaters who gather at the Adrian Hall Way Skate Park. The project is, in and of itself, a process of discovery through the method of documentary storytelling. They are making a documentary, sharing the documentary, and documenting those results of the sharing in a beautifully iterative dance of reflection and expression.
As we look to PVDFest Ideas and think about our position as monument-as-process, we seek to fluidly embody the ideal of inquiry and the idea that communities are fostered and formed through inquiry. We look forward to enjoying, supporting and participating in programs and projects that see their own processes as a way to move toward further questioning and growth.
Janaya Kizzie
Event Coordinator
Providence Public Library
The traditional uses of commemoration in America are various—but often include a nostalgic reaching for a perceived "better time." In recent years the RIHS has viewed commemoration as a chance to complicate our understanding of the past, to explore (and to fill) the silences which have been hitherto elided or ignored. We have also tried to make more connections between the achievements of people in the past and the achievements of present influencers. This effort only increased in 2020, with the sharpening focus on national and global issues of social justice, public health, and the environment.
In the Fall of 2020 the Rhode Island Historical Society and the Newport Historical Society collaborated to publish a combined issue of their respective scholarly journals to commemorate the one hundredth anniversary of the ratification of the 19th Amendment. The articles examine the diversity of participants, the anti-suffrage movement in Rhode Island, and the struggles for leadership between those in the nascent Rhode Island Woman's Suffrage Association and the national women's suffrage convention held in Newport in 1869.
In an effort to make "legacy" relevant, our social media efforts for Women's History month have included a series of posts with the themed pairing of two individuals, one who is a high-achieving woman presently, paired with a past figure who relates to the present one in some parallel way. For example, we featured a story pairing Morgan Nathan (age 17), recently named the first female Eagle Scout in Rhode Island, with Providence-born mountaineer Annie Smith Peck (1850-1935), who sailed from New York to Peru in May of 1906 to begin her 2nd attempt to climb Mount Huascaran. Another example is award-winning actor and producer Viola Davis, paired with Matilda Sissieretta Joyner Jones (1868-1933), who gained international fame for her soprano opera singing.
In terms of collecting, a new process of commemoration was the launch (with the Providence Public Library) of our online COVID Archive, an effort to collect history as it unfolds through the voices of its participants. We quickly found ourselves in the midst of a national effort, with each institution or collecting entity approching the theme in their own way.
In sum, our aspiration in terms of commemoration and legacy is to ensure that the understanding of history among our audiences is more nuanced and more representative of everyone who plays a part in the course of human affairs.
Richard Ring
Deputy Executive Director for Collections & Interpretation
Rhode Island Historical Society
When ACT published the City of Providence Art in City Life Plan in April 2018, our team was excited and challenged by the call from Via Partners to refrain from lumping consideration of memorials and monuments together with public art works. The Plan, nearly 35 years in the making, recommended that we should create a separate body in addition to the recommended Art in City Life Commission that would determine the "social and merit" of newly proposed and existing memorials and monuments – the public expressions of our city's legacies. So began our work developing the Special Committee for Commemorative Works.
As we learned from our work inaugurating the Art in City Life Commission, the creation of a new civic body requires that a new ordinance be approved by the Providence City Council. To present a policy proposal to the Council and Mayor that built from promising practices adopted by other municipalities, we had some significant research ahead of us. Fortunately, under the direction of ACT Cultural Affairs Manager and resident policy wonk Gina Rodríguez-Drix, we collaborated with a fantastic young scholar who collated case studies from across the country while examining our hyper-local context and limitations.
Emma Boast's fall 2018 practicum research yielded a suite of policy recommendations and a number of thorny questions that will inform our work in years to come:
Who decides what should be commemorated and memorialized in public space?
How do we move beyond bronze statues and granite memorials to commemorative forms that are better suited to difficult histories and contested forms of public memory?
What would it mean for a monument or memorial to invite public participation or to become a site of ritual?
ACT began drafting an ordinance based on Emma's research in the summer of 2019. Once a lead sponsor was identified (Councilwoman Rachel Miller from Ward 13) the ordinance passed its first legislative hurdle in November of that year. Before it could pass out of the Council ordinance committee for final review, the pandemic hit.
That fact that City Council, and an amazing group of our colleagues, all of them passionate, brilliant bureaucrats, brought ORD-2020-21 over the finish line in June of 2020, during one of the most challenging years our City has faced in recent memory, shows the enormity of our communal commitment to taking Providence's commemorative landscape seriously. As our Downcity neighborhood erupted with exhortations to protect Black lives, our City officials affirmed that we would have a mechanism to determine who and what will be honored in our shared public spaces.
Now, nearly a year later, we invite you, our community, to reflect on the thorny questions posed above, and others, with us. As you consider your own perspectives on "commemoration and legacy," we hope you will be inspired to bring your experiences, expertise, concerns, questions and big ideas to a public forum in a way that suits you – we only ask that you take it all seriously.
Stephanie Fortuanto
Director
City of Providence Department of Art, Culture + Tourism
___________________________________________________
 For more on Emma's process, see her ACT blog post here.
 For the full text of the ordinance, see the City of Providence's Code of Ordinances website here.