The Historical Fantasy of Esek Hopkins
September 14, 2021 @ 7:00 pm
|
Recurring Event
(See all)
One event on September 10, 2021 at 7:00 pm
One event on September 11, 2021 at 7:00 pm
One event on September 15, 2021 at 7:00 pm
One event on September 16, 2021 at 7:00 pm
One event on September 17, 2021 at 7:00 pm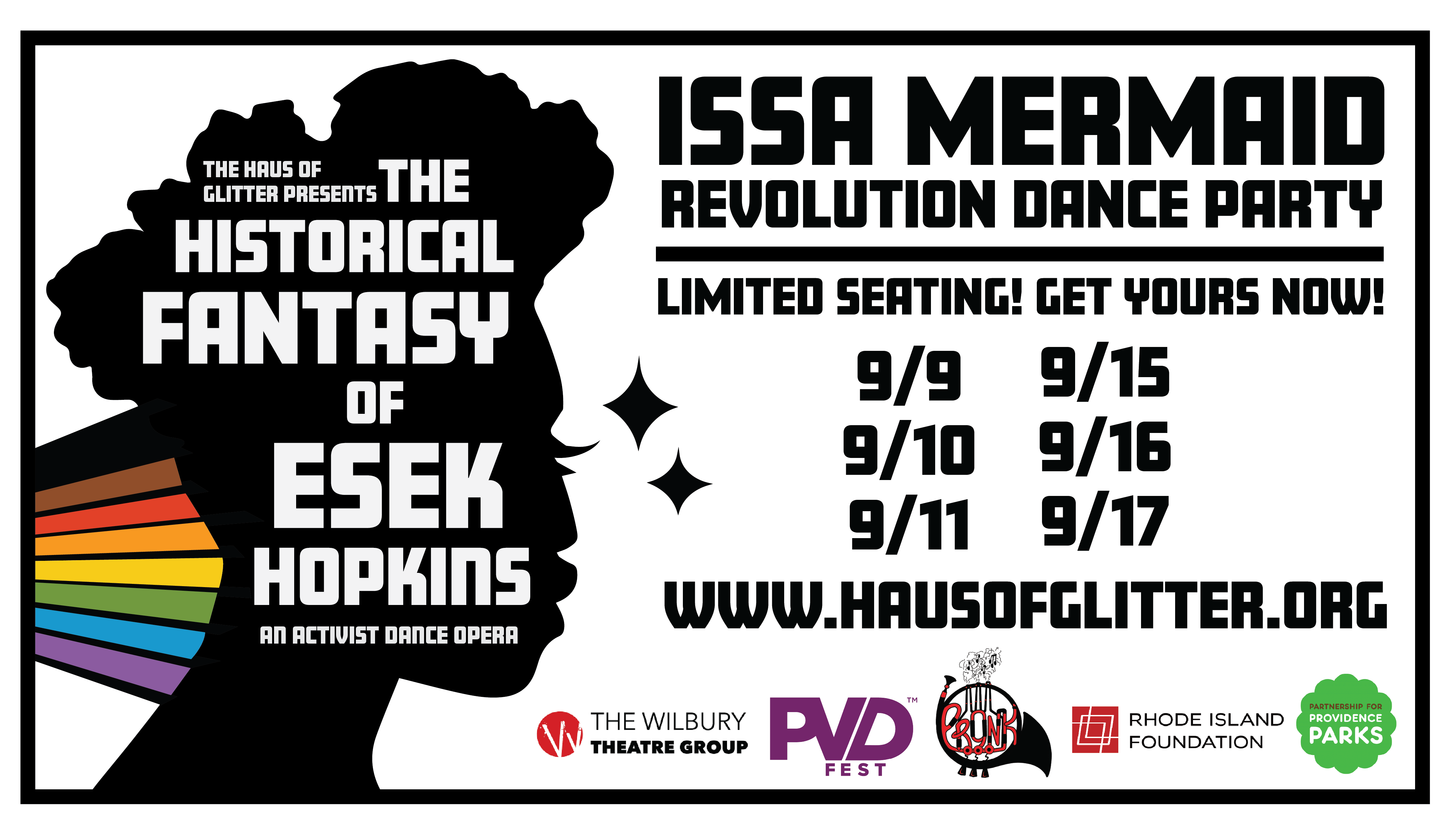 From the creators: The Historical Fantasy of Esek Hopkins is an activist dance opera, that reimagines the narrative of Esek Hopkins; the future of our community; the future of public space; the future we will leave behind to our children's children. As we cleanse, heal, and practice liberation with our community, this project is a protest-demonstration against the system that tells us that Esek Hopkins' former home is worth preserving. We are choreographing for justice.
The cast for this community workshop performance features The Haus of Glitter Dance Company + Performance Lab, April Brown, Becky Bass, Shey 'Rí Acu' Rivera  Ríos, Anjel Newman (Medusah Black), Satta Jallah, Sidy Maiga & over 35+ local contributing artists. Produced by The Haus of Glitter Dance Company + Performance Lab, The Wilbury Theatre Group, PRONK! Fest, and PVDFest, with support from the Partnership for Providence Parks, & The RI Foundation, the production runs September 9-17, outdoors, at the former home of Esek Hopkins.
Audience members may register for performances at www.thewilburygroup.org. For more information on The Haus of Glitter's historic intervention and a full list of project partners, visit www.hausofglitter.org.
This production is the culmination of the City of Providence's two-year PARKIST Artist Residency. Since Jan 1, 2020, The Haus of Glitter has been living in the former home of Esek Hopkins (1718-1802), widely known as the first commander-in-chief of the Continental Navy during the American Revolutionary War. For more information on this residency, please visit https://artculturetourism.com/parkist-in-residence-blog/