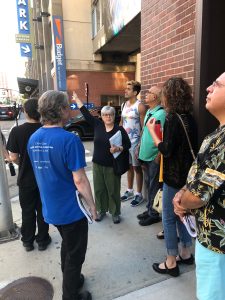 Acclaimed tour guide Barbara Barnes returns to Gallery Night with an experience designed to orient locals and visitors alike to PVDFest's commissioned site-specific public art works, the latest Avenue Concept works in the festival foot print and Providence's contemporary and historic architecture. This tour features work by well over 100 local artists including Nadine Armada, Margie Ball,  Mike Bryce, Jennifer Cahoon, Tamara Diaz, Melanie Ducharme, Adam Ferbert, Sean Harrington, Alan Hawkridge, Graham Heffernan, Jill Heffernan, Annie Kennedy,  Heebe Lee, Pamela Messore, Ian Mohon, Phillip Palumbo, Jade Sisti, Anthony Tomaselli, and Michele Kier.
No registration needed
Tours leave promptly from One Financial Plaza (corner of Westminster St. and Weybosset St.) and can only accommodate 25-40 comfortably

DATE/TIME:
Friday June 7 – 4:00pm – 6:00pm and 6:00pm to 8:00pm;
Saturday June 8 – 10:00am – 12:00pm, 11:00am – 1:00pm, and 12:00pm – 2:00pm
PLACE: 
One Financial Plaza (corner of Westminster St. and Weybosset St.)
Contact: 
Barbara Barnes: 401-438-0463 and Steven Pennell: 401-286-4620
Tour Guide Bios:
Barbara Barnes
has been leading public walking tours in Providence for over 30 years. When Gallery Night was just starting out she led its monthly trolley tours. She is delighted to return.
Barbara Carpenter
has recently returned to Rhode Island after 38 years living on the West Coast. She has worked as an actor, singer, teacher, and executive assistant and enjoys gardening and fabric arts.  Carpenter enjoys seeing modern Rhode Island with mature eyes, exploring art, culture and history in the same streets she once roamed as a young hippie.
Catherine Hurst
is a retired marketing professor and marketing executive. She is a walking tour guide with the RI Historical Society, and is researching and writing biographies of individuals buried at the North Burial Ground.  Hurst has worked as an actress and scriptwriter on the Burial Ground's Cemetery Ghost Tour for the last three seasons.
Frank Toti 
is an Instructor in Humanities at Johnson and Wales University and Rhode Island College, as well as a playwright, director, and actor. Toti loves star gazing, walks along the beach, Broadway show tunes and a nice glass of Merlot!
Barbara Zdravesky
is a professional freelance cellist who has been a docent and tour guide in the past fifteen years with the Rhode Island Historical Society, the Providence Preservation Society, and the Preservation Society of Pawtucket. Zdravesky enjoys visiting museums of all kinds and is excited to help share Providence's art world with Gallery Night audiences.