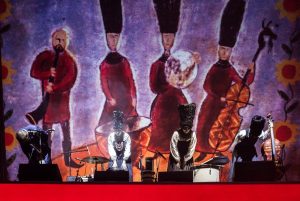 DATE: Saturday, June 8th
TIME: 1:00 PM
LOCATION: Kennedy Plaza
FirstWorks invites you to color your PVDFest purple with the Ukranian world music quartet DakhaBrakha. In addition to performing their unmatchable transnational concert experience for us at PVDFest, DakhaBrakha will lead a comedic Borscht-making demonstration and tasting!
Hailing from Kyiv, Ukraine, DakhaBrakha's performance style reflects fundamental elements of sound and soul that create a world of unexpected new music. Created in 2004 at the Kyiv Center of Contemporary Art by theatre director Vladyslav Troiskyi, DakhaBrakha exudes originality and authenticity. Even their name, DakhaBrakha meaning "give/take" in the old Ukrainian language, is original, outstanding, and authentic. Come experience the surprising vocals and infectious energy that have made them darlings of music festivals around the world.