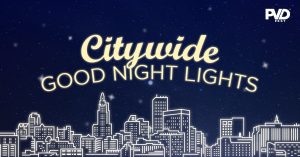 LOCATION: Hot Club, 25 Bridge St
DATE: Thursday at 8:00PM
Help us kick-off PVDFest with a city-wide act of kindness! Continuing the Providence tradition of wishing the children at Hasbro Hospital goodnight, PVDFest will host it's first ever Citywide Good Night Lights on Thursday of the festival. At the conclusion of the Citywide Bike Ride at Hot Club, festival goers will flashlights across the Narragansett Bay.
Regardless of location, people across the city are encouraged to also participate and record their act of kindness using the #1000ActsPVD. Each participant will be counted towards this year's 1000 Acts of Kindness initiative.
For more information, follow our event: https://www.facebook.com/events/2121195054669794/