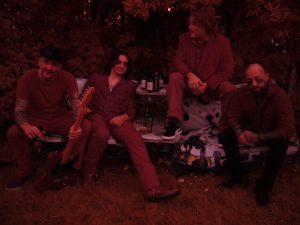 Blackletter is an apocalyptic rock band from Providence. With stage alter egos, rock and roll swagger, and hard-rock riffs, their mantra is to keep rock n' roll alive! They've been featured on WHJY, WBRU's Home BRU'ed, Boston Rock Radio, and internationally on German and Australian radio.
Their first release was "Station 15 – Digital Vinyl," followed up by "Modern Machinery" and "Spyder" in 2017. They've shared the stage with the Giraffes of Brooklyn and the Ghost Wolves of Austin, TX. In 2019, they released their video for "Jezebel" and are currently in the studio recording their new album.
You should definitely check them out live! Their internet home is www.whoisblackletter.com.