In alignment with the City of Providence's State of Emergency declaration, all city events for the next two weeks will be postponed. Bands scheduled to perform at Battle of the Band showcases at Alchemy (March 15, March 22) and Askew (March 16, March 23) will be rescheduled to a later date.
We will keep you posted as information and updates become available. Thank you for your patience and cooperation!
For more information on COVID-19 and best practices you can share, connect to the Mayor's Center for City Services by dialing 3-1-1, visiting www.PVD311.com or download the PVD311 mobile app on your smartphone for 24/7 access.
Battle of the Bands – 2020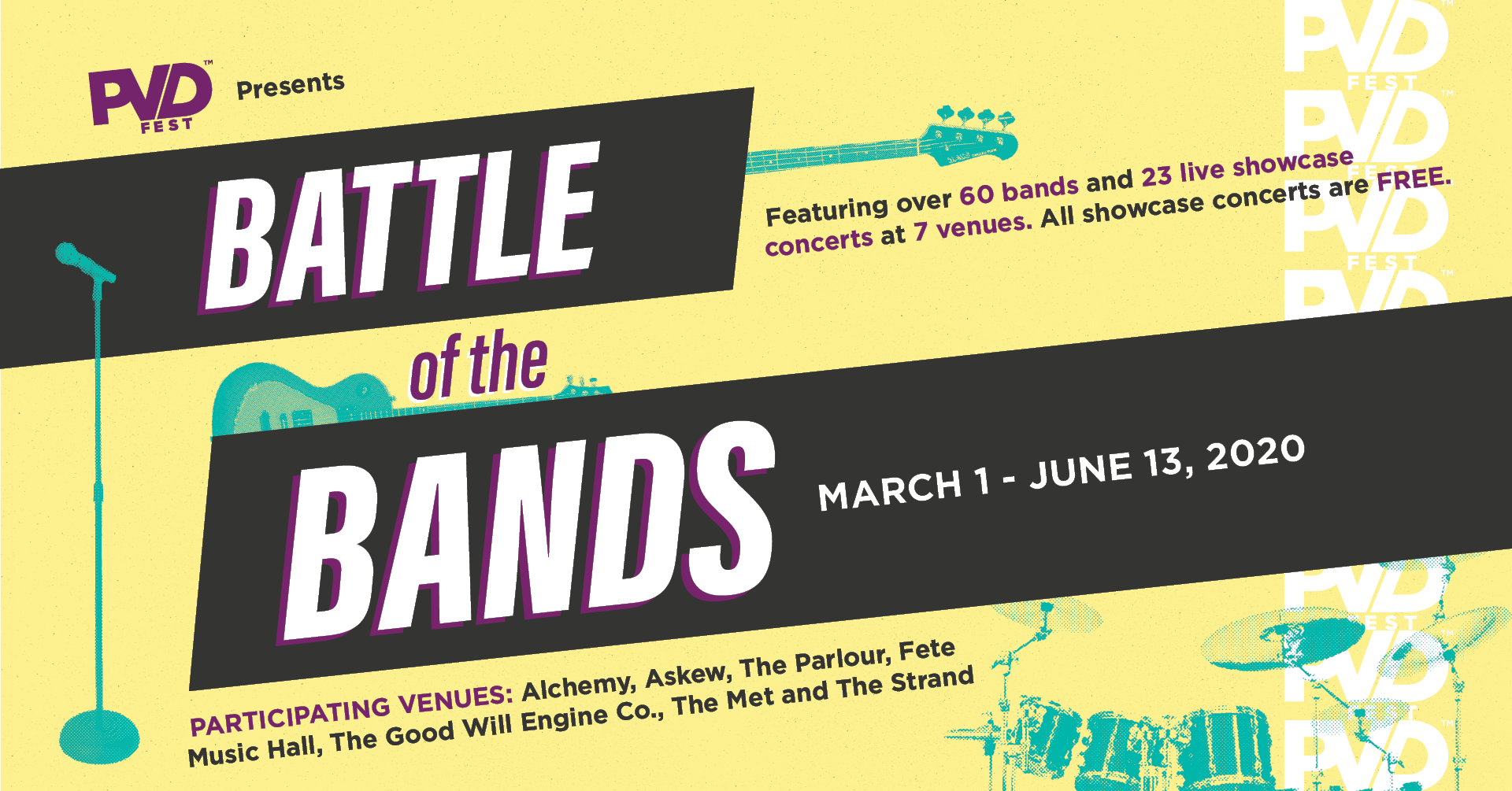 PVDFest, Providence's signature cultural celebration, is pleased to announce a new addition to the 2020 festivities…Battle of the Bands!
The City is teaming up with some of the area's finest venues (Alchemy, Askew, Fete, the Met, the Parlour, Goodwill Engine Co., and the Strand) to showcase local talent leading up to PVDFest. Over the course of 3 months, local bands will battle it out in front of audiences and judges for the right to perform at the PVDFest 2020 Battle of the Bands Showcase finals being held at The Strand during the festival in June.
PRIZES
1st Place – $1000 cash, $1500 recording package, PVDFest 2021 Main Stage performance slot
2nd Place – $1000 cash
3rd Place – $500 cash
VENUES AND SCHEDULE
All doors open at 7pm, performances start at 7:30pm, all showcases free and open to the public.
3/1 Showcase (HERd, Rob Ballou, The Knightsville Butchers)
3/9 Showcase (Planet Mercury, Steadystate, Violet Tempo)
POSTPONED! 3/16 Showcase 
POSTPONED! 3/23 Showcase 
3/8 Showcase (Matt Fraza Band, The Will Divided, Cool Beverages)
POSTPONED! 3/15 Showcase 
POSTPONED! 3/22 Showcase 
4/7 Showcase (Downcaster, Artist Jackie featuring BeatCo.ViaMental, Strattones)
4/14 Showcase (The Moodrunners, Red Ed and the Undead, N.I.N.I.E 3:30)
4/21 Showcase (Birdlife, The Stone Road Band, Kontrolled Havok)
4/28 Showcase (Wax On, Blud, Aura)
4/8 Showcase (Mob Candy, Big Lux, Pastel)
4/16 Showcase (Blynd Dryve, Heather Rose In Clover, The Smoke Breaks)
4/22 Showcase (Sugar Cones, Electric Joey, Towanda, Fathercard)
4/29 Showcase (Obsidian State Of Mind, Dirty Filthy Basement, Metric Electric)
5/5 Showcase (INTERBRUTIAL CREASE, Empress and The Night Moves, GUCCIBOIFLEX)
5/12 Showcase (Great Gale, EclecticElectric, DIGITAL)
5/19 Showcase (Dogs on Shady Lane, Plug, Blue Holes)
5/26 Showcase (The Right Hand Left Hand Band, Vague Perception, Grizzly Power)
6/7, 6/8, 6/9 Semi-Finals
(The top 16 bands will move forward to the semi-final round.)
(The top 8 bands will move forward to the final round of competition.)